Vegan Berry Smoothie
This vegan berry smoothie is not only beautiful and vibrant in color, but also packed with nutrients, and is super filling. It can be enjoyed as a smoothie, or as a smoothie bowl.
One thing I really like about this vegan berry smoothie recipe is that it is made solely of whole foods, with no protein powders. Many smoothie recipes call for various protein powders, and many people reach for these products. In general, it's best to get your nutrients from whole food sources, as opposed to a processed supplemental source.
A note on Protein Powders and Supplements:
I'm not 100% against ever using protein powders, but I do not recommend them in a professional setting. Why? This is because protein powders, and other supplements, are not regulated by the FDA like other conventional foods or drugs are.
The major difference in supplement regulation is that the company itself is responsible for determining its safety and compliance. The FDA does not 'approve' companies, facilities, labs, or manufacturers, despite label claims. The FDA does however regulate 'adverse events' that are reported by consumers.
Bottom line is that supplements are not approved by the FDA on their safety or effectiveness (1). Some people look for supplements that have been tested by a third party in efforts of transparency and confirmation of their claims on safety and the nutrition information. NSF is a popular third party tester you may see on labels (2).
Contaminants
In fact, for almost a decade reports have been released that heavy metals are often found in protein powders on the market.
The most recent study discussed in this Consumer's Report article found that almost all 134 of the protein powders tested on the market contain detectable levels of heavy metals like arsenic, cadmium, mercury, and lead, as well as 55% testing positive for bisphenol A (BPA). Due to the lack of regulations, and risks of contamination, many dietitians choose not to recommend supplements for liability purposes, or personal beliefs (2).

Okay, back to the vegan berry smoothie recipe. This recipe contains all whole food ingredients, packed with vitamins, minerals, antioxidants, protein, fiber, healthy fats, and fueling carbohydrates!
Although you can enjoy this as a smoothie, I especially love enjoying it as a this bright pink smoothie bowl, or should I call it a beet smoothie bowl? Beets are the main ingredient yielding this beautiful color!

AKA: The Beet Smoothie Bowl
First, gather your ingredients, and blender. You'll need frozen berries, beets, banana, spinach or other greens, a splash of plant-based milk, silken tofu, flax/chia/hemp hearts (any or all), and an optional squeeze of lemon.

Next, add all ingredients to your blender, and blend until smooth!
If you're making a smoothie bowl, pour the smoothie into a bowl, and top with your favorite toppings, such as berries, seeds, coconut, or granola. You'll end up with a beautiful pink smoothie bowl. Pile it on haphazardly, or take your time to make it pretty, either way it tastes the same :)
You'll notice the color is different in the two pictured smoothie bowls, the only difference is one used blueberries and strawberries for the frozen berries, and the other used strawberries and cherries. Depending on what frozen fruit you choose, the color may vary.
A note about beets:
You can use canned, or fresh then roasted beets. The nutrition content is the same, but I think the freshly roasted beets offer a more vibrant color payoff. So if that's what you're going for, I'd recommend roasting your own beets. You can see how vibrant and bright my Strawberry Beet Chia Pudding is, and the picture below. That smoothie bowl is the same recipe, just using freshly roasted beets.. In this beet smoothie bowl recipe however there is greens, and other berries that may darken it a tad. Canned beets are much more convenient if you're in a hurry or have them on hand (save the juice to use in these pink meringue kisses).

How to roast beets:
Preheat oven to 400 F. Wash, and scrub beets, remove greens (save and eat them). Toss the beets in a little olive oil, and wrap in heavy duty foil.
How long should you roast them? Depends on your desired texture. I typically let them roast for 45 minutes to an hour, flipping halfway through. Feel free to take them out and check based on your preference. I recommend roasted a whole bunch at a time so you have a batch to use throughout the week.




Nutrition
Yield: 40 oz, Serves 2
This vegan berry smoothie is packed with 20.3 g protein, 10 g healthy fats, 54 g carbohydrates, 45% potassium, 31.5% calcium, 45.75% iron, 206% Vitamin C, 17.5% Vitamin B6, 70% Magnesium, 15.2 g of fiber, all for 357 calories.

Price
This vegan berry smoothie can be made for $4.20, or $2.10 per serving for a 20 oz smoothie
vegan berry smoothie, pink smoothie bowl, beet smoothie bowl
Breakfast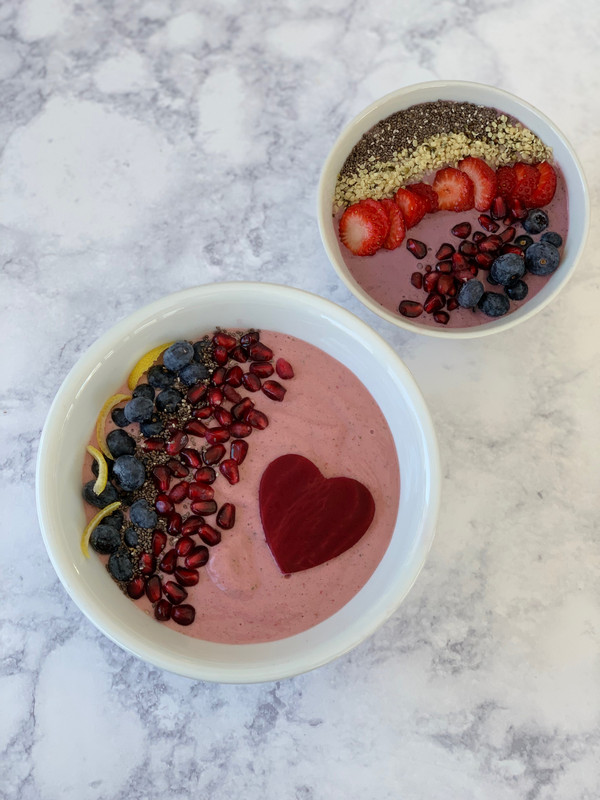 Vegan Berry Smoothie
This vegan pink smoothie bowl is packed with nutritious whole foods, without any protein powders or supplements. This recipe can be enjoyed as a smoothie on-the-go, or in a smoothie bowl with your favorite toppings. Either way this vegan berry smoothie recipe will hit the spot!
prep time: 2 mins
cook time: 5 mins
total time: 7 mins
ingredients:
2-2.5 cups frozen berries of your choice (strawberries, cherries, blueberries, etc.)
1 package (12 oz) silken tofu
1/2 cup beets (canned or freshly roasted)
2 handfuls (3 oz) spinach or other greens
1 banana
Splash of plant based milk, unsweetened
2 Tbsp seeds (chia, flax, or hemp hearts)
Squeeze of lemon (optional)
instructions
Gather your ingredients and blender.
Add all ingredients to your blender and blend until smooth
Enjoy as a smoothie, or pour into bowls and top with your favorite toppings to enjoy it as a smoothie bowl (granola, berries, seeds, coconut, etc)
NOTES:
You can use canned or freshly roasted beets. From another recipe I've noticed the freshly roasted beets provide a greater color payoff. So if you're looking for a vibrant color I'd recommend trying it with freshly roasted beets.