Vegan Aquafaba Chocolate Mousse
I'm a big fan of anything chocolate, and there's no way I could have a recipe roundup for Valentine's day, and not include something chocolate.
After working with aquafaba again to make my valentine's day kisses, I wanted to provide another option using aquafaba if meringues aren't your thing.
This vegan aquafaba chocolate mousse is rich, decadent, and also the most challenging recipe I've worked on so far.

I really struggled to come up with this recipe. I think I tried close to 8-10 variations, and kept running into problems (even tried other recipes similar online and none of them turned out). So coming up with this aquafaba chocolate mousse was a tad frustrating, and even more frustrating that other recipes floating around online simply do not work, which is a big waste of time, energy, and money.
So be weary when trying other aquafaba chocolate mousse recipes that just have you combine the aquafaba and chocolate, I could simply not get any of them to turn out.
The biggest obstacle was that when combining chocolate and aquafaba, the chocolate would seize, making a gritty, chunky mousse. I tried to salvage and tweak things multiple times, but although it tasted like chocolate, the texture was too offputting.
With all of that trial and error, I am really happy to have developed something that is delicious, chocolatey, and that works, with a nice mousse consistency.
Not only is aquafaba a key ingredient, but the other secret ingredient to making this smooth and creamy is avocado. Yep, I've got a vegan avocado chocolate mousse recipe for you!
Before we jump into the recipe, I wanted to provide some information on aquafaba!

What is aquafaba?
Aquafaba is the liquid in a can of chickpeas. Aquafaba essentially means 'bean water.' We often strain a can of beans and discard the liquid, but when it comes to chickpeas, their liquid is gold!
As the chickpeas sit in the liquid, starches transfer to the liquid. This starchy liquid makes a great binder, but more impressively, it will whip up into a foam just like egg whites which can then be used in baked goods, as a whip topping, or in things like vegan meringues!
This has been tried with other types of canned beans, but the magical sweet spot really only works with canned chickpeas.


How does it work?
When aquafaba is whipped in a stand mixer or hand mixer, it is able to trap air and create a foam, and eventually will form stiff peaks (with added sugar).
Just like in egg whites, adding an acid, like cream of tartar, helps stabilize the structure of the foam. One of my all time favorite vegan cookbooks, Vegan for Everybody by America's Test Kitchen, goes through experiments and breaks down the science behind this. I highly, highly recommend this cookbook if you're interested in vegan baking and cooking! I'm a huge nerd and love the detail (I have bought it for friends and family, and recommended it to so many people)!

They found that the aquafaba foam lasted much longer when cream of tartar was used to stabilize it. Without cream of tartar, it 'melted' back to liquid within 20 minutes. Read more here





How to make aquafaba chocolate mousse
First, gather up your ingredients to make the aquafaba foam and the other ingredients needed for the vegan chocolate mousse.
Follow the instructions to whip your aquafaba to stiff peaks, as described here. Only use 1/4 cup of sugar (or less) to achieve stiff peaks, instead of 1/2 cup in the regular recipe. We will be adding other sources of sugar later on :)

Melt your chocolate, and combine all ingredients except for the agave in a food processor. Only add half the melted chocolate at first.

Blend until smooth, scraping down the sides of the food processor with a spatula as needed. Taste, and add any or all of the remaining chocolate as desired, and drizzle agave to sweeten to taste. Blend to combine
When no chunks, or green from avocados remain, and the desired sweetness is achieved, transfer the chocolate avocado mousse to a bowl.
Next, fold in the aquafaba, one heaping spoonful at a time. If it has been sitting for too long, feel free to whip it up for a minute or two to ensure there are stiff peaks still. The foam will deflate as it is being folded into the chocolate, which is okay. Both the aquafaba and the chocolate mousse mixture should be at room temperature.
Continue folding in the aquafaba foam until it is all incorporated and no white streaks remain.
Cover, and refrigerate to set for at least 1 hour. Once set, transfer to serving dishes and garnish with your favorite toppings and enjoy!
NUTRITION
Serving Size: 1/3 cup; Yield: 6 servings
This vegan aquafaba chocolate mousse provides 10 g protein, 6.8 g of fiber, 11.3% RDI Iron, 6% RDI Magnesium, 16.7 g of fat (lots of healthy fat from the avocado), 49 g of carbohydrate, for 275 calories.

Note on serving size: This is not to tell you what is 'acceptable' to eat in one sitting, eat as much or as little as you'd like. Just helps me break down nutrition and pricing information. I find that because this is so rich, 1/3 to 1/2 cup with berries or other toppings is satisfying to me, but we are all different!
PRICE
This recipe costs $7.25 to create (including price of aquafaba), which comes out to roughly $1.20 per serving, not including your toppings of choice.

aquafaba chocolate mousse, vegan aquafaba chocolate mousse, vegan chocolate mousse, chocolate avocado mousse, avocado chocolate mousse recipe, vegan avocado chocolate mousse
dessert
Yield: 6; 1/3 cup servings
Pin it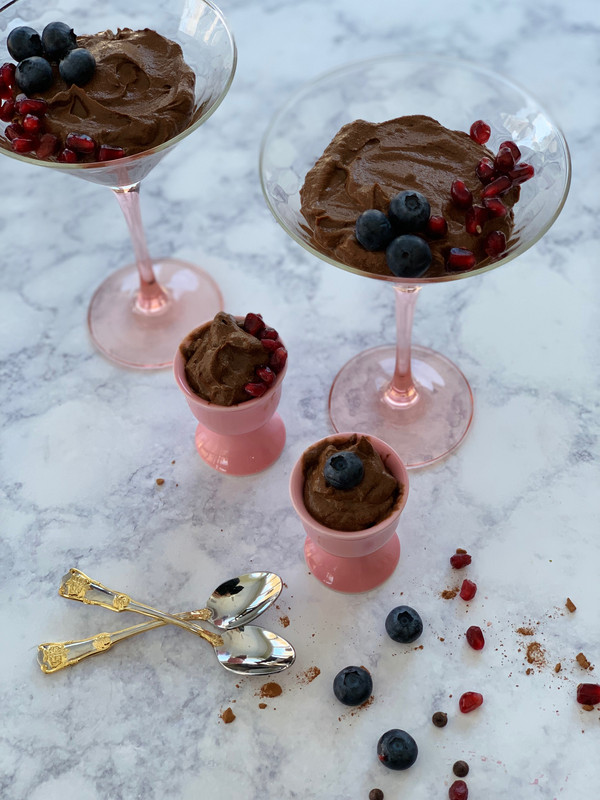 Vegan Aquafaba Chocolate Mousse
This vegan aquafaba chocolate mousse is so rich, creamy, and decadent. Creating this recipe had it's challenges, but the final product is well worth it! Find out how to make this aquafaba chocolate mousse recipe, and the other key ingredient responsible for making this! Top it off with your favorite toppings, and enjoy a vegan Valentine's Day!
prep time: 10 mins
cook time: 2 hour and 30 mins
total time: 2 hours and 40 mins
ingredients:
Aquafaba
1 (15 oz) can of Chickpeas
1/4 cup Sugar
1 tsp Vanilla
1/4 tsp Cream of Tartar
Chocolate Mousse Base
2 Avocados, ripe
1/4 cup Cocoa Powder
1/2 cup Semisweet Chocolate, divided, melted
1/2 Tbsp Vanilla
1/8 tsp Salt
1 T Agave
instructions
Gather all necessary ingredients and appliances
Make aquafaba, by adding vanilla and cream of tartar to the liquid from one can of chickpeas. Use a mixer to beat on high until foam starts forming (1-2 minutes). Add sugar one tablespoon at a time. Continue to beat on high until stiff peaks form (8-10 minutes). Flip the bowl upside-down. If there is any movement, continue until the aquafaba does not move when help upside-down.
In a food processor, blend all of the 'Chocolate Mousse Base' ingredients. Start with only 1/4 cup melted chocolate.
Once blended, smooth, and no green is visible, taste it. Add more chocolate to your liking. Continue blending, scraping down the sides with a spatula.
Transfer to a bowl. Fold in the aquafaba one heaping spoonful at a time. Fold just until incorporated, and add more until all aquafaba is combined and no white streaks remain.
Cover and place in the fridge to set for 1-3 hours.
Once set, serve with your favorite toppings (berries, coconut, peanut butter, mint, etc). Enjoy!
NOTES:
Make sure the aquafaba and mousse base are both at room temperature when combining to prevent the chocolate from seizing.