Pink Meringues: Valentine's Day Kisses
These valentine's day kisses are meringues that are made without eggs. Conventionally, meringues are made by whipping egg whites to stiff peaks.
In my Food Science class last year we had an egg lab, where we made all different egg products (meringue, souffle, poached eggs, and made a hollandaise sauce etc). My group did the meringue station.
In addition to learning the science behind making meringue, we also made a version without eggs, using aquafaba to achieve the same outcome. Many other students couldn't tell the difference between the egg white version and the aquafaba version, some even preferring the aquafaba version.
With Valentine's day approaching, I thought I could pipe the aquafaba meringues into little 'kisses' that look like hershey's kisses, and of course make them pink!

What is aquafaba?
Aquafaba is the liquid in a can of chickpeas. Aquafaba essentially means 'bean water.' We often strain a can of beans and discard the liquid, but when it comes to chickpeas, their liquid is gold!
As the chickpeas sit in the liquid, starches transfer to the liquid. This starchy liquid makes a great binder, but more impressively, it will whip up into a foam just like egg whites which can then be used in baked goods, as a whip topping, or in things like vegan meringues!
This has been tried with other types of canned beans, but the magical sweet spot really only works with canned chickpeas.


How does it work?
When aquafaba is whipped in a stand mixer or hand mixer, it is able to trap air and create a foam, and eventually will form stiff peaks (with added sugar).
Just like in egg whites, adding an acid, like cream of tartar, helps stabilize the structure of the foam. One of my all time favorite vegan cookbooks, Vegan for Everybody by America's Test Kitchen, goes through experiments and breaks down the science behind this. I highly, highly recommend this cookbook if you're interested in vegan baking and cooking! I'm a huge nerd and love the detail (I have bought it for friends and family, and recommended it to so many people)!
They found that the aquafaba foam lasted much longer when cream of tartar was used to stabilize it. Without cream of tartar, it 'melted' back to liquid within 20 minutes. Read more here

How to make Aquafaba Valentine's Day Kisses:
Now that we've gone over what aquafaba is, and how it creates a foam, we are ready to make these pink meringues for Valentine's day!!
First, gather your ingredients. You'll need a can of chickpeas, sugar, cream of tartar, vanilla, and for the natural pink coloring, some beets or juice from a can of beets.
There are some specific requirements for the utensils and tools used to make meringue. You should use a metal or glass bowl, metal utensils, and make sure they are thoroughly cleaned. Even a drop of fat or protein residue will prevent the aquafaba from whipping up (just like in traditional meringue, where a hint of egg yolk will prevent it from whipping up).
Preheat the oven to 210 F, and line baking sheets with parchment paper.
Drain a can of chickpeas into your bowl, and set aside the chickpeas for another use.
Add vanilla and cream of tartar to your aquafaba.
Start mixing on high to incorporate air into the aquafaba. It will take several minutes to start creating a foam.
Once a foam has begun forming, add your sugar in, one tablespoon at a time. The sugar helps achieve stiff peaks.
Getting to stiff peaks will take around 8-10 minutes. Test by flipping the bowl upside down. If there is any slide or movement from the foam, you need to continue whipping it.
When your stiff peaks are achieved, and you have a sturdy aquafaba meringue, get a plastic baggie or piping bag. Drip a very small amount of beet juice down the sides of the bag. Add the meringue a couple spoonfuls at a time.
Pipe the meringue into little 'kisses' on the parchment lined baking sheets. Just like that you have little pink meringue kisses for Valentine's day!
Bake for at least 75 minutes. Take them out and lightly press on one of the Valentine's Day kisses. If it feels soft or indents at all, keep baking them. You can turn off the oven and leave them in there to fully dry out for another hour or so.
Store them in an airtight container at room temperature, or freeze them. This makes a lot of little kisses, so I recommend freezing some, and giving them out as gifts, sharing at the office, or at school.
I think these are so cute, and festive!
Nutrition
Serving Size: 1 or 3; Yield: ~75 kisses
This nutrition analysis is very approximate because aquafaba is not analyzed in our federal USDA Nutrition Database. I did find a site that paid to have it analyzed, so I used that as an estimate, and will link that here.
1 pink meringue 'kiss' is 6 calories, and has 1.3 g of carbohydrate.
3 pink meringue 'kisses' are 18 calories, and have 4 g of carbohydrate.
Price
This is also a little tricky, since most of these ingredients are byproducts of something else (use the chickpeas, and aquafaba is a free byproduct; use beets, the juice is a free by product), leaving the sugar which only costs $0.13 to make this recipe, divided by 75 kisses, and that is way less than a penny.
But, let's say you went out to buy all the ingredients to make this recipe, it would cost roughly $1.23, or $0.02 per pink meringue 'kiss.'

pink meringue kisses, pink meringue, Valentine's Day kisses
dessert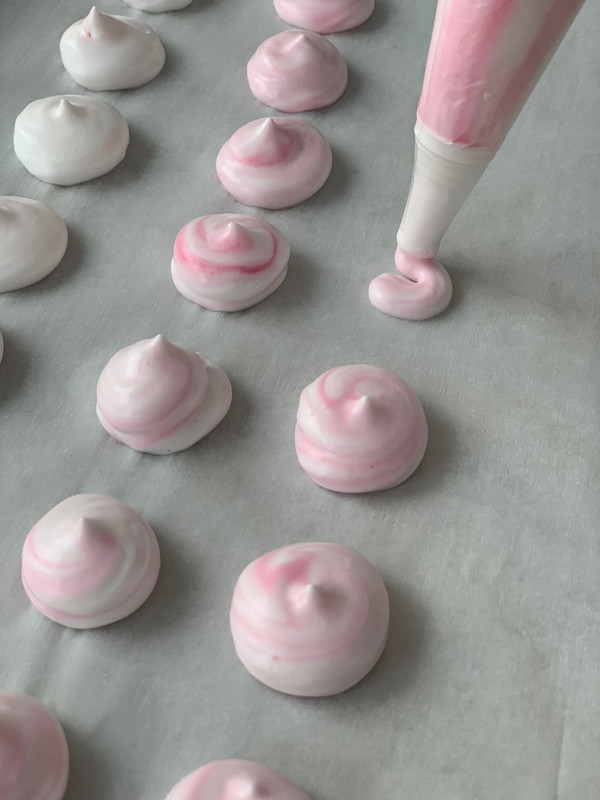 Pink Meringues: Valentine's Day Kisses
Try these vegan pink meringues inspired by Valentine's Day Kisses. Meringues made without egg whites, using aquafaba. Learn more about what aquafaba is, and the tricks to make it whip up into stiff peaks.
prep time: 10 mins
cook time: 3 hour
total time: 3 hours and 10 mins
ingredients
Aquafaba
1 (15 oz) can of Chickpeas
1/2 cup Sugar
1 tsp Vanilla
1/4 tsp Cream of Tartar
Other
1/4 cup Beet Juice (from a can, or pressing juice from a freshly roasted beet)
instructions
Gather all of your ingredients and appliances needed
Preheat oven to 200 F
Make meringue by adding vanilla and cream of tartar to the liquid from one can of chickpeas (aquafaba). Set chickpeas aside for another use. Use a mixer to beat on high until foam starts forming (1-2 minutes). Add sugar one tablespoon at a time. Continue to beat on high until stiff peaks form (8-10 minutes). Flip the bowl upside-down. If there is any movement, continue until the aquafaba does not move when help upside-down.
Once stiff peaks are achieved, get a baggie or piping bag. Drip small amounts of beet juice down the inside walls of the bag. Fill the bag with meringue.
Pipe 'kisses' on a parchment lined baking sheet. Repeat filling the bag with beet juice and meringue until you are done.
Bake in the oven for at least 75 minutes. They should be completely dry when done. Lightly press on the side of one to determine if it is still soft. If needed, continue baking until done.
You can turn the oven off and leave them in the oven, or remove them from the oven to continue to dry out.
Use a metal spatula to gently lift them off the parchment paper. They will be very fragile.
Enjoy right away, or store in an airtight container. You can also freeze them, as this recipe makes a lot of them!
NOTES:
You may need much less beet juice, it was hard to estimate. A little goes a long way. I found that layering the meringue with beet juice frequently resulted in the best color payoff.