Fruit Infused Ice Cubes
So, I realize there is nothing groundbreaking about this Valentine's day idea, and I went back and forth whether or not to include it, but ultimately decided to, because sometimes we all just need a reminder.
A reminder of things we are already have done before, but may have slipped our minds. Also, a reminder to keep things simple! It's so easy to get caught up in a bunch of fancy, time-intensive ideas (thank you Pinterest haha).
These fruit infused ice cubes can be used for any occasion, or on a daily basis. They can be tailored to fit your fruit or citrus preferences.
In honor of Valentine's day, this time I went with strawberries and lemon juice to make these fruit infused ice cubes.
Here are the steps for how to make them, if needed:
Fruit Infused Ice Cubes for Valentine's Day
First, get your ice cube tray. I happened to own a red silicone giant ice cube tray. I believe these are designed for whiskey ice cubes, but I prefer my fruit infused ice cubes :) Any size or shape ice cube trays work!
Fill them up halfway with water. Add your fruit of choice, and top off with water or lemon juice.
Freeze until solid, then remove your fruit infused ice cubes from the ice cube tray, and add them to your water, or drink of choice!
I love berry ice cubes, but you can also get fancy and add herbs like mint or thyme.
I think these giant ones are the perfect party ice cubes, great for punch, or to impress your guests. I'm also a big fan of these cute biodegradable paper straws, but most often reach for my metal straws!
Hydration is really important for so many reasons, and if you're not a fan of plain water, this might be a way to flavor your water to make it more appealing to you.
Additionally, this is another great way to get kids involved in the kitchen! I wrote up a little blurb on the research supporting healthier eating in kids who participate in the kitchen at home in my Valentine's Day fruit kabob skewers post, so be sure to check that out if you're interested!
What's your favorite combination for your infused ice cubes? Comment below and let me know!
fruit infused ice cubes, infused ice cubes, party ice cubes, berry ice cubes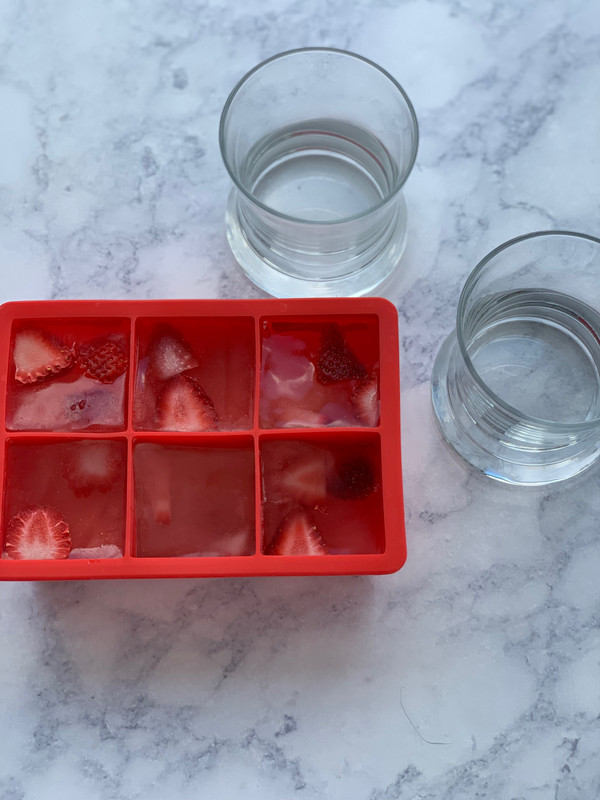 Fruit Infused Ice Cubes
These Valentine's day fruit infused ice cubes are a quick, easy way to spruce up your beverages! Make these for everyday use, or get fancy and use them for party ice cubes in festive punch or drinks.
prep time: 2 mins
cook time: 3 mins
total time: 5 mins
ingredients
1/4 cup berries or citrus of your choice
Water
Squeeze of lemon or lime (optional)
instructions
Gather your ingredients and ice cube tray (Any ice cube tray will work, I like the silicone ones since they make it easier to pop the ice cubes out. The giant ones are fun, but not necessary!)
Fill your ice cube tray wells up halfway with water
Add your fruit, and squeeze of citrus if applicable
Top off with water, and place them in the freezer
Pop them out of the ice cube tray once they are frozen solid, and enjoy!
Optional: Use these biodegradable paper straws, or get yourself some metal straws-- both reduce plastic waste!