Pumpkin Pancakes
That's right…another pumpkin recipe! :)
These fluffy, filling, pumpkin pancakes are the perfect fall treat! Make these for the family on a weekend morning, or make them ahead of time to enjoy throughout the week. This fall spin on a breakfast classic has my tastebuds thanking me! I especially enjoy these pumpkin pancakes because they are fluffy and voluminous (none of those flat, pathetic looking pancakes), while still being pretty dense and filling!
My secret? Using spelt flour! This is made from an ancient strain of wheat (dates back to 9000 years ago). It has a sweeter, nuttier flavor than regular whole wheat flour which makes it perfect to use in this recipe. Spelt flour is also more water soluble than other flours, meaning it is easier to digest and retains more water-soluble vitamins and minerals. It also has a higher protein and fiber (and other good-for-you components) content compared to traditional all purpose white flour. If you don't have any on hand, or any at your grocery store, you can use regular whole wheat flour instead, and if you're really in a bind using all purpose flour works just fine too (although you will be sacrificing most of the nutrients)!
You can use your own homemade pumpkin puree in this recipe too!
These pancakes provide a good source of iron, protein, potassium, calcium, vitamin A & fiber.
Just like any recipe, these are fair game for modifications and tweaks to suit your preferences. I personally love a sprinkling of mini chocolate chips in any pancakes I have! I use the Enjoy Life brand, which are sold in multiple stores. Another great addition to these would be some walnut pieces! This recipe does include light brown sugar, which can be greatly reduced or omitted based on your preferences. Since I do include chocolate chips and a little bit of maple syrup on top, I either cut the sugar in half, or leave it out all together. Try them, and tweak the recipe to how you best enjoy them :)
Nutrition Facts
Serves: 5 (serving size is 2 pancakes)
These pancakes pack 8.64 g of fiber (or 34.6% DV), 9.44 g of protein, 22% DV of Vitamin A, 28% DV of Calcium, 24.4% DV of Iron, while containing only 418 mg sodium, 12.3 g of fat (mostly healthy fats), 48.5 g of Carbohydrates, for 309 calories.
*A great source of a particular nutrient (provides a LOT per serving) is above 15%
*excludes maple syrup or other ingredient modifications (includes 3 T brown sugar)
Price Information
To make the entire recipe, it costs $4.92. This comes out to $0.98 per serving!
I used the price information listed for my homemade pumpkin puree, if using canned puree this may differ.
*Prices may vary depending on sales and items purchased in bulk.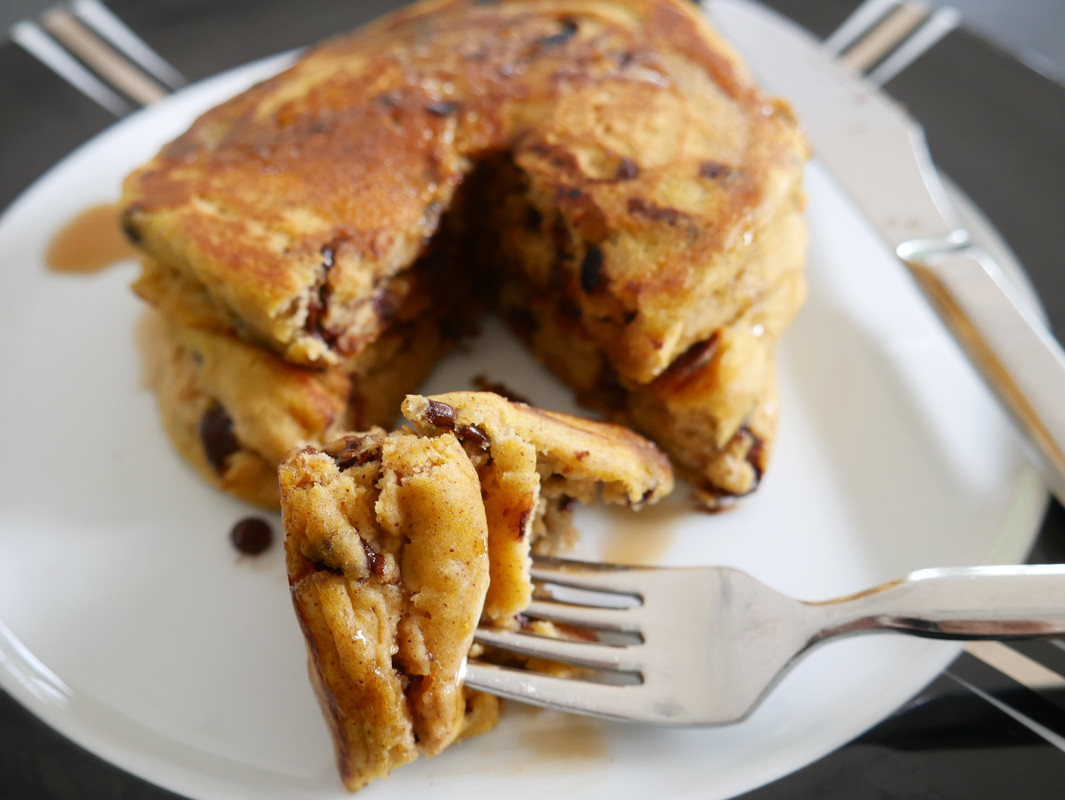 Pumpkin Pancakes
These fluffy, filling, pumpkin pancakes are the perfect fall treat! These deliver all the yummy fall flavors your heart desires
prep time: 8 mins
cook time: 20 mins
total time: 28 mins
ingredients:
Dry Ingredients
2 cups Spelt Flour, or Whole Wheat Flour
1.5 Tablespoons Baking Powder
2 teaspoons Cinnamon
1/2 teaspoon Ground Ginger
~1/3 teaspoon Nutmeg
Dash(es) of Pumpkin Pie Spice
3 Tablespoons Light Brown Sugar
Pinch of Salt
Wet Ingredients
1.5 cups Non-Dairy Milk, Unsweetened
1/2 cup 100% Pumpkin Puree, Homemade or Canned
3 Tablespoons Vegan Butter (Earth Balance Sticks), melted
1 teaspoon Vanilla
Other Ingredients
1/4 cup Mini Chocolate Chips (Enjoy Life)

Cooking Spray

Maple Syrup, to taste

Any additional mix-ins (like walnuts)
instructions
In a large bowl, combine dry ingredients and whisk until combined with little to no lumps
Add the wet ingredients to the bowl. Stir well, and let rest for ~5 minutes. Batter should be somewhat thick
Add chocolate chips and any other mix-ins
Heat skillet over medium heat. Spray with non-stick cooking spray to reduce pancakes from sticking
Once hot, scoop batter into skillet making 3-4" pancakes
When the edges are cooked (2-3 minutes), flip them over to finish cooking through, until pancakes are golden brown
Continue until you have used all remaining batter, spraying skillet between batches. The recipe should make 10 pancakes
Top and serve with maple syrup and cinnamon, or what you prefer. Enjoy!
NOTES:
Adjust the amount of brown sugar used based on preference and other ingredients used (less if including chocolate chips, syrup etc).
Nutmeg measurement is estimated. I use a whole nutmeg and pass it over a micro plane several times.
Serving size is 2 pancakes.
Use my homemade pumpkin puree recipe linked in the blog post!