Baked Oatmeal Cups
Today is #NationalOatmealDay so I had to share with you one of my favorite oatmeal recipes!
Oatmeal is a powerhouse, with so many wonderful health benefits.
High in Fiber: Oatmeal is high in fiber, in particular a soluble fiber called beta-glucan. Fiber slows down digestion (delayed gastric emptying), meaning it makes you feel full faster and longer, and stabilizes the rise in blood sugar.

Lowers Cholesterol: Due to compounds found in oatmeal, it aids in lowering LDL, or 'bad', cholesterol, which is proven to reduce the risk of cardiovascular events, like heart attacks and strokes.

Boosts the Immune System: Selenium, Zinc, Beta-glucan, and other vitamins contribute to keeping a healthy immune system. In addition, they contain antioxidants, called avenanthramides, which are shown to suppress inflammation.

Aside from a big bowl of oatmeal, this is one of my favorite oatmeal recipes. I make it practically every weekend. I like it because it is super simple and easy to make, they are great for meal prep or for any occasion you need to bring a dish to share, they have nutrient-dense ingredients, and they are very customizable!

These baked oatmeal cups are a baked version of a bowl of oats. Although they look like muffins, they are closer in texture to oatmeal than a muffin. They are moist, flavorful, and fluffy!


These baked oatmeal cups can be customized to what mix-ins you prefer. I personally love the combination of cinnamon, walnuts, and chocolate chips, but the options are endless! If you try these, I'd love to hear what you like in yours! (I use Enjoy Life mini chocolate chips)
This recipe is best with very ripe bananas. I like to check the grocery store mid-week for a ripe bunch that will be perfect by the weekend when I make a new batch. Our grocery store also puts out ripe bananas at a discount before the new shipment is put out for the weekend shoppers, so you can look for that as well!
I also use homemade applesauce, especially this time of year, but store-bought unsweetened applesauce is more than okay!
Nutrition Facts
Serves: 12
Provides 3.7 G protein, 3.3 g fiber, 6.2 g (healthy) fats, 53 mg sodium, 277 mg potassium, and 31.2 g Carbohydrates, for 187 calories.
Great for a mid-morning snack (or dessert), or part of a healthy balanced breakfast.
*Oats are naturally gluten-free, if you have a gluten sensitivity or Celiac's disease, look for certified gluten-free oats to ensure they are processed in a facility that does not allow for any gluten cross-contact.


Price Information
This recipe costs under $5 to make, roughly $4.77, coming out to $0.40 per oatmeal cup.
*Prices may vary depending on sales and bulk items. We get our walnuts, maple syrup, vanilla, and cinnamon at Costco, and usually snag a great deal on ripe bananas.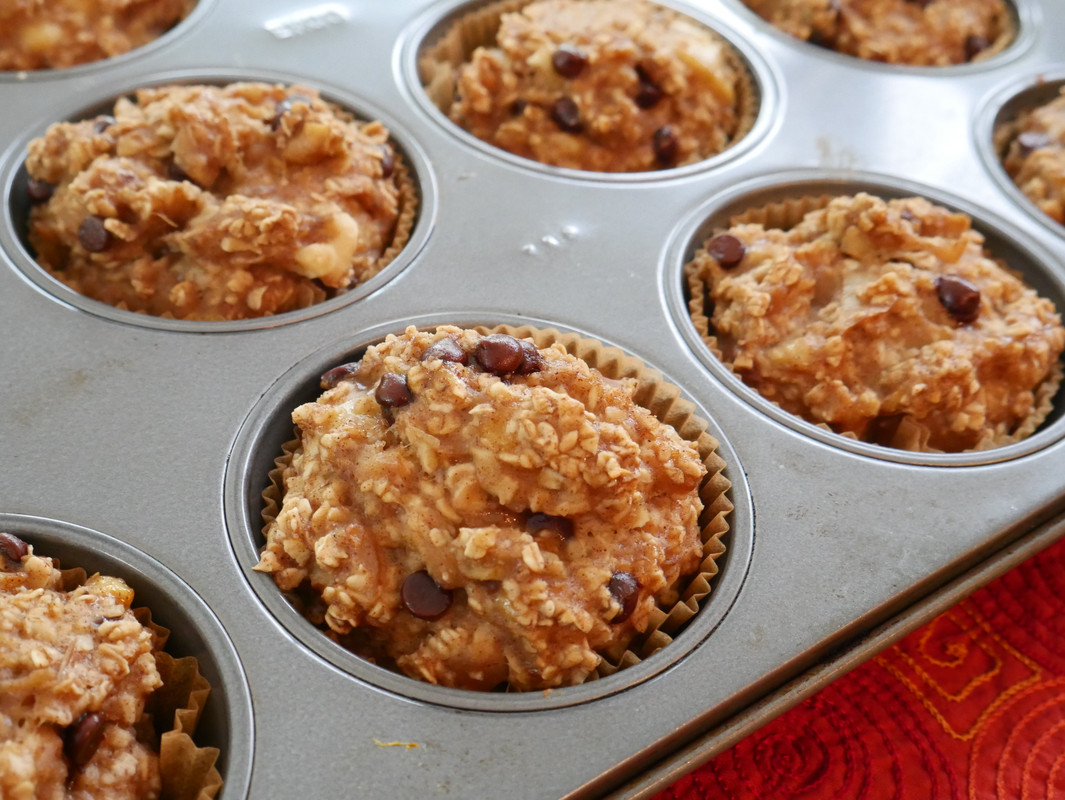 Baked Oatmeal Cups
These baked oatmeal cups are one of my go-to recipes. Perfect as part of a healthy on-the-go breakfast, or snack (or dessert)!
prep time: 5 mins
cook time: 25 mins
total time: 30 mins
ingredients:
Wet Ingredients
4 very ripe Bananas
1/2 cup Applesauce, unsweetened
1/3 cup Maple Syrup
2 teaspoon Vanilla
Dry Ingredients
2 teaspoons Cinnamon
2 teaspoons Baking Powder
2 cups dry Oats, old fashioned, or rolled oats
1/2 cup Walnuts, unsalted, pieces
1/4 cup Mini Dairy-Free, Vegan Chocolate Chips (optional)
instructions
Preheat oven to 375 F
Mash the bananas in a bowl with a fork or potato masher

Add the rest of the wet ingredients (applesauce, vanilla, maple syrup), stir until well combined

Add cinnamon and baking powder, stir well

Add the oats, mixing until combined

Add remaining dry mix-in ingredients (walnuts & chocolate chips, and/or any other additions), fold until evenly throughout

Scoop into lined muffin tin, filling 12 cups evenly. These do not raise as much as other baked goods, so they should be close to full before baking

Bake for 20 minutes at 375 F (done when they are slightly raised, golden brown on top, and toothpick come out clean)
NOTES:
If you're using chocolate chips, I recommend using the mini chips. If you use regular size chocolate chips, you will probably want closer to 1/3 or 1/2 cup since they are bigger in size, fewer fit in the measuring cup.

If you include chocolate chips, or other sweet fruits, I recommend cutting back on some of the maple syrup. This is for personal preference, but if you add ingredients with natural sweetness it's okay to reduce the amount of maple syrup.
Enjoy! Please share, and comment when you give this a try with what mix-ins you chose to put in yours!