Vegan Chipotle Sofritas Recipe
I have always been a big Chipotle fan, and was so excited when they introduced their tofu sofritas! This gave me an additional protein source for my bowls (in addition to beans), which can be hard to come by when you're out to eat as a vegetarian or vegan, or someone just looking to reduce their meat intake.
Since the tofu sofritas from Chipotle are always what I order, I decided to recreate it at home. This not only saves me money, but also lets me be in full control of what is in it, and how it's made.
This Vegan Chipotle Sofritas Recipe is so versitile, and easy to make. Add them to nachos, tacos, burritos, taco salad, or burrito bowls at home!

The best part? There is no tedious chopping or mincing of all the ingredients— Thank you food processor! Which makes my life so much easier, being able to avoid crying over chopping onions, and saves a lot of time.
To make this Vegan Chipotle Sofritas Recipe, simply brown the tofu in a skillet, combine all the sauce ingredients in the food processor and pulse until mixed, then add the sauce to the skillet and simmer for 10-15 minutes. That's it!

Skip the chopping, dicing, and mincing, and quarter your onion, tomato, and jalapeño and toss them in the food processor along with the cilantro, lime juice, garlic, chipotle peppers, adobo sauce, and liquid smoke.
Customize the texture, by making your tofu larger or smaller depending on your personal preference.

Once you have made this vegan chipotle sofritas recipe, go ahead and assemble your favorite ingredients to make your own chipotle-style burrito or bowl, prep taco salad for lunch this week, or use in your tacos for Taco Tuesday! The options are endless, and make it easy to repurpose them in multiple ways without repeating the same meal everyday.
Some of my favorite ingredients to build a taco salad or burrito bowl:
Fajita veggies (bell pepper and red onion sautéed)

Black or pinto beans

Roasted Corn (Trader Joe's sells frozen roasted corn— it's a game changer!)

Avocado— read this first!

Romaine lettuce

Rice (brown rice or cilantro lime rice)

Salsa and/or tomatoes

Lime juice & Cilantro
Be sure to whip up these easy homemade tortilla chips while you're at it!
Modifications
Spice Level: if you are not a fan of really spicy foods, you can substitute green bell pepper for part or all of the jalapeño pepper.
Jalapeño: I like using jalapeño in this recipe, but feel free to use another type of pepper, I believe Chipotle uses poblano peppers.
Spices: I found that with the fresh ingredients and the chipotle peppers in adobo sauce offered plenty of flavor, and that adding other dry spices didn't provide that much of a difference to justify the extra work of measuring out several spices to add. BUT feel free to add some cumin, salt, pepper, chipotle/chili powder etc.
Nutrition Info
Serving Size: 1 cup, Serves 4
One serving provides 11 g of protein, 10 g carbohydrate, 2.8 g of fiber, 8.5 g healthy fat, 9% DV Calcium, 14% DV Iron, for 157 calories.
Price
It costs roughly $ 1.37 per serving to make these tofu sofritas
Tofu Sofritas, Vegan Chipotle Sofritas, Vegan Chipotle Sofritas Recipe, tofu sofritas recipe
lunch, dinner, Mexican, tofu
Yield:
4 servings (1 cup)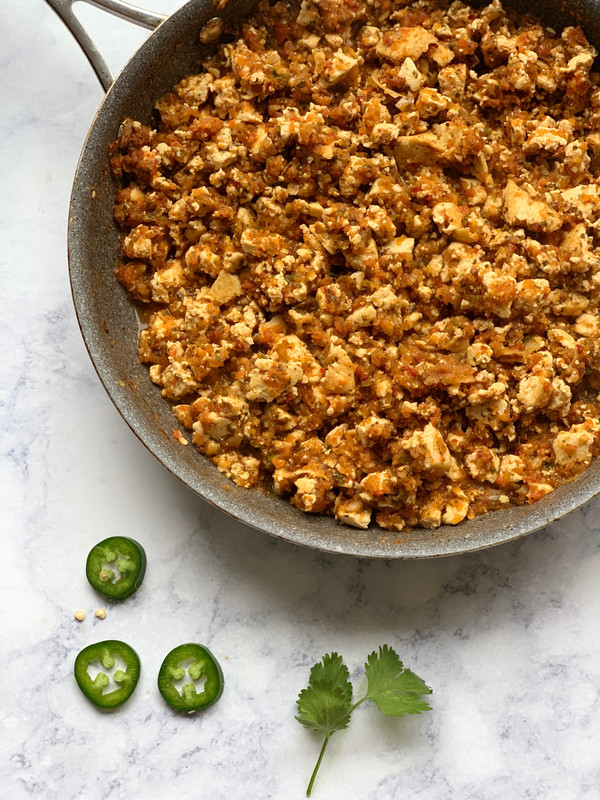 Vegan Chipotle Sofritas Recipe
Make your own Chipotle tofu sofritas with this Vegan Chipotle Sofritas Recipe! A perfect plant-based protein option to add to tacos, nachos, burritos, taco salad, and burrito bowls! So easy, with no chopping required, and made in under 30 minutes!
prep time: 5 M
cook time: 20 M
total time: 25 M
ingredients:
Sauce
1 medium Yellow Onion (or 1/2 large onion)
1 Roma Tomato
1/2 bunch Cilantro
4 Garlic Cloves
1 jalapeño, deseeded
3-4 chipotle peppers (canned in adobo sauce)
3 T of the adobo sauce
1/2 lime, juiced
1-2 T liquid smoke
Other
1 package Firm Tofu (14 oz), drained
1 T Olive Oil (optional)
instructions:
How to cook Vegan Chipotle Sofritas Recipe
Heat oil in skillet over medium-high heat. Add cubed tofu to brown, flipping cubes over occasionally.
Once browning is achieved, about 5-10 minutes, start breaking down to smaller tofu pieces, stirring frequently.
While tofu is cooking, gather sauce ingredients. Quarter tomato, onion, jalapeño (deseeded) and add to your food processor.
Add remaining sauce ingredients to the food processor. Pulse until well incorporated, and some chunks remain (resembles salsa).
When tofu is ready and at the desired size and level of browning, pour the sauce from the food processor to the skillet.
Stir and let simmer at medium-low heat for 10-15 minutes, until any excess liquid is absorbed.
Serve with tacos, nachos, burritos, taco salad, or burrito bowls-- Enjoy!
NOTES:
If you want a less spicy version, replace the jalapeño with green bell pepper. Feel free to swap out a different pepper as desired, like Poblano.