Homemade Baked Tortilla Chips
Today is National Tortilla Chip Day!
Tortilla chips are a personal favorite of mine, and I know I can't be alone!
I'm in my last rotation of my dietetic internship, in a preventative cardiology rotation. For patients with cardiac concerns it's important to watch sodium intake (in some cases fluid intake as well). For patients in this Intensive Cardiac Rehabilitation program, store-bought tortilla chips aren't a suitable optional since all of them are fried, and most are too high in sodium. This has been on my mind and brought up lots of questions during our taco cooking class this week, so I wanted to try to make my own tortilla chips.
An easy solution is to bake your own corn tortillas which are naturally very low in sodium, and use none or limited added oil.
I was curious if using no oil and baking in stead of frying would still get the desired crispy crunch… and it does!
How to make Homemade Baked Tortilla Chips:
The bare minimum is to just cut your corn tortillas into triangles, toss them in a bowl with some lime juice, and place on a parchment lined baking sheet to bake.
You can also add a spray of oil (easier to use a little bit with an oil mister instead of trying to drizzle the oil from the bottle), chili powder, or a pinch of salt if you are not restricting sodium for a health condition.

Nutrition
Serving Size: 12 chips (2 tortillas); Yield: 2 servings
One serving provides 3 g of Fiber, 1.5 g Fat, 2 g Protein, 10 mg Sodium, 4% Iron, 22 g Carbohydrate, for 110 calories. *Excludes any added salt or oil
Price
It costs roughly $0.48 per serving to make these baked tortilla chips
homemade tortilla chips, tortilla chips, baked tortilla chips
Yield: 2; 12 chips per servings
Pin it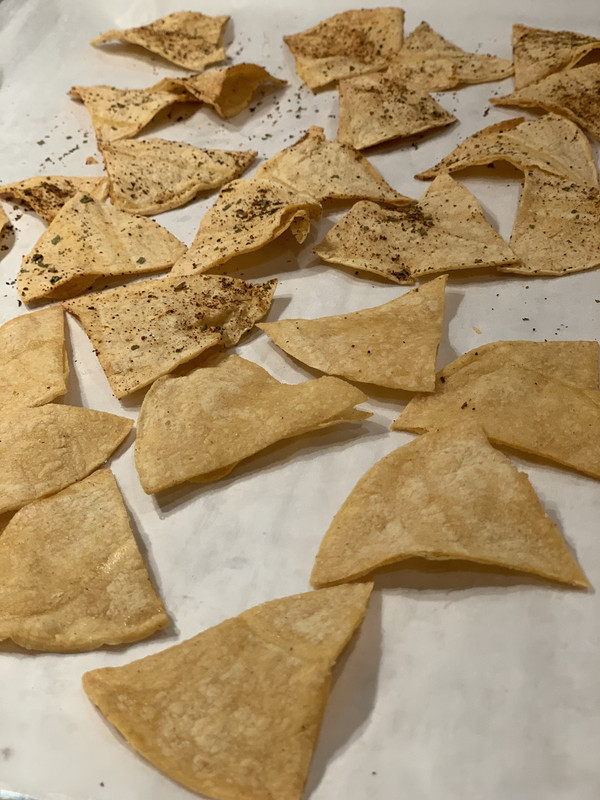 Homemade Baked Tortilla Chips
Crispy, crunchy homemade baked tortilla chips that can be achieved with your favorite seasonings and baking them in the oven.
prep time: 5 mins
cook time: 15 mins
total time: 20 mins
ingredients
Optional
Pinch of Salt
Dash(es) of Chili Powder
instructions
Preheat oven to 400 F.
Cut the tortillas in half, and cut each half into 3 triangles.
Put the triangles in a bowl. Squeeze lime juice while tossing to coat the tortilla pieces.
If using, add seasonings of your choice (salt, chili powder, etc.). A couple dashes should be enough, but use as much or as little as you prefer.
Lay the pieces flat on a parchment lined baking sheet.
Bake for 6-7 minutes, then flip each chip over and bake for 5 more minutes.
Continue to flip and bake for 2-3 minutes at a time until they reach the desired crunch! Enjoy :)
NOTES:
If you are making a single serving, you can also place a whole corn tortilla into the toaster until crunchy and  break apart into chip size pieces.
Watch the chips carefully, they can go from 'almost done' to very done and black pretty quickly.