Vegan Ribs
It finally feels like summer is here! With several days in the 80-90 degree range, and 4th of July right around the corner, it is the perfect time to share this recipe!
With summer comes grilling and BBQ. Years ago when I first went vegan my Mom found a vegan ribs recipe to make for me (since she is well known for her really good ribs, among other things), and wanted me to have something similar to eat with dinner. That was our very first experience with seitan, and I forgot all about it until a couple of months ago when I tried my hand at making my own for this vegan chicken wing recipe.
I was able track down the recipe she originally used, and have been recipe testing and making tweaks for a few weeks now. Whether you're plant-based, or looking to reduce your meat intake, these vegan ribs are a way to continue summer BBQ traditions!
Full disclosure, these are not going to taste identical to conventional animal ribs, BUT they do have a similar texture and BBQ flavor.
What is Seitan?
Seitan (pronounced 'say-tan') is a popular vegan meat substitute that you can find in stores, at restaurants, or make from scratch. It is made from hydrating wheat gluten, to mimic the texture of various conventional meat entrées depending on the technique and flavoring used. Read more ->
Vegan Ribs
This recipe is simple, straight-forward, and the majority of the ingredients you probably already have. You'll need vital wheat gluten, which is the main ingredient to make seitan at home. It is the concentrated wheat protein, gluten, in powder form that we will rehydrate to achieve the texture of seitan for these vegan ribs. Learn more


First, gather all of the ingredients. Combine the dry ingredients in a bowl, and whisk to incorporate.

Second, combine all of the wet ingredients, except for the BBQ sauce, in a separate bowl. You can use water or vegetable broth. I think the broth adds more flavor, but I have made it both ways, and either is delicious! Try making your own vegetable broth with food scraps- sustainable and no sodium!
Whisk to dissolve and combine. Pour the bowl with the wet ingredients into the bowl with the dry ingredients. Stir to combine. You will notice how quickly the gluten network begins to form, and it will start to resemble dough. Use your hands to knead and thoroughly incorporate together. The dough should be sticky, but not wet. If it is too wet sprinkle additional vital wheat gluten.
You want to make sure the gluten network is developed enough before continuing. Work the dough for 1-3 minutes. You should see the gluten network formed, and it should feel elastic. If you pull or stretch the dough it should naturally return to original shape. Try not to overwork the dough, or it will be so elastic, you wont be able to do the next step without wrestling with it.
Once the dough is ready, transfer to a sprayed 8"x8" pyrex dish. Press the dough flat into the dish to cover the bottom evenly. This may be a little tricky the first time. If the dough keeps shrinking back, use your hands or a knife to break the gluten strands to allow it spread a little easier.
Use a knife to cut the vegan ribs into 12 even pieces. Cut down the middle, then each half into thirds, then rotate the dish 90 degrees and cut the six strips in half to leave with 12 vegan ribs. Bake for 25 minutes at 350 degrees F.
Remove and use your knife to cut the vegan ribs again. Brush ~1/4 cup of BBQ sauce generously on top of the vegan ribs. Heat a grill pan or light the barbecue, and wait until hot. I prefer using a grill pan because it's easier for me. Once hot, use a spatula to transfer the vegan ribs to the grill pan, flipping them so the BBQ sauce side is down. Brush more sauce on the vegan ribs facing up. Flip once browning occurs, being careful not to let the burn. I tend to flip them a couple times, brushing a little more sauce each time to get a good color and caramelization of the sauce.
Transfer to a serving dish and enjoy!! Perfect for holiday cookouts, or a random summer night grilling!
Nutrition Info
Serving Size: 4 ribs, Serves 3
One serving provides 32.6 g of protein, 6.4 g of fat, 35.5 g of carbohydrates, 1.2 g of fiber, 640 mg of sodium, 9% DV iron, and 122% DV B12.
To reduce sodium, find a lower sodium BBQ or make your own for full control. I also use low-sodium soy sauce.

The carbohydrates may vary depending on what BBQ sauce you use, and how much you choose to use.
Price
It costs roughly $0.89 per serving for these vegan ribs, or $2.67 to make the recipe.
Vegan Ribs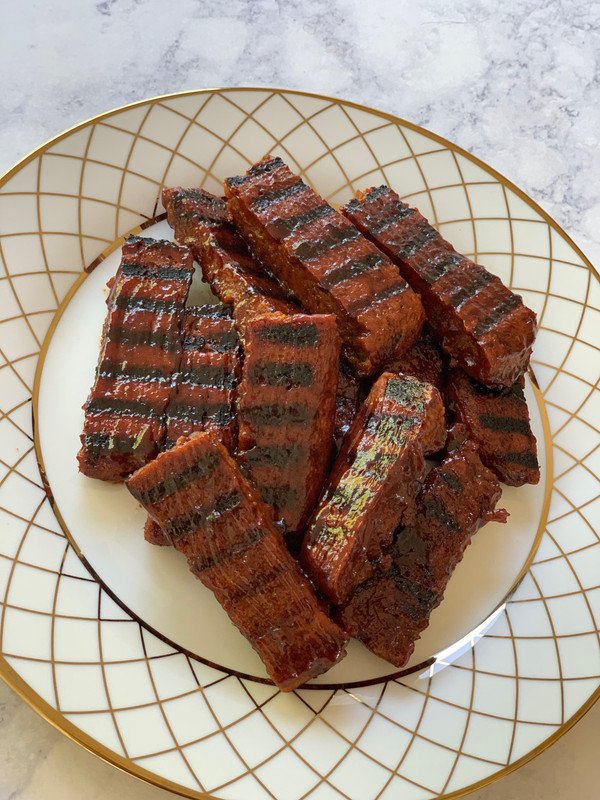 Yield:
3 servings; 4 ribs each
prep time: 10 M
cook time: 40 M
total time: 50 M
Add this vegan ribs recipe to your summer BBQ list! Packed with plant-based protein, and a similar texture and flavor to a summertime classic, without the environmental impact, animal cruelty, or price tag!
ingredients:
Dry Ingredients
1 cup Vital Wheat Gluten
2 T Nutritional Yeast
1 T Paprika
2 tsp Onion Powder
1 tsp Garlic Powder
instructions:
How to cook Vegan Ribs
Preheat oven to 350 degrees F
Gather ingredients. Combine dry ingredients in a bowl, whisk to incorporate
In a separate bowl, combine the wet ingredients (not the BBQ sauce), and whisk to dissolve
Pour the wet ingredients into the bowl of dry ingredients. Stir until dough forms. The dough should be sticky, but not wet. If too wet, sprinkle more vital wheat gluten as needed
Knead the dough for 1-3 minutes to develop the gluten network.
Spray 8x8" dish with cooking spray. Transfer the dough to the dish and spread into an even layer on the bottom. Score with a knife or pull to break some gluten strands as needed to stretch to fit the bottom (it will be elastic and may be tricky to get the hang of at first)
Cut into 12 ribs by cutting in half, and each half into thirds to give you six long pieces. Rotate dish 90 degrees and cut in half to result in 12 vegan ribs
Bake for 25 minutes at 350 degrees F
Remove from oven, re-cut the vegan ribs, and generously brush about half of the BBQ sauce onto the ribs
Heat grill pan or light your barbecue. Once hot, use a spatula to flip the vegan ribs (sauce side down) onto the grill
Add more sauce to the side facing up with no sauce. Once browned, flip and be careful not to burn the ribs. I like to flip a few times, adding more sauce each time
Remove from grill and enjoy!
vegan ribs, vegan ribs recipe, vegan BBQ ribs, seitan