Beet Strawberry Chia Pudding
Chia seeds in general, and chia pudding, have been popular for the past few years. I love chia pudding because there are endless variations you can make, from chocolate, to peanut butter, to coconut, to vanilla. Not to mention the toppings can really elevate the flavors, and different chia pudding recipes and topping combinations give even more room for customization.
For example, a classic chocolate chia pudding recipe can be paired with berries, or coconut, or peanut butter and nuts, or even with some mint. That one recipe could make a totally different dessert (or breakfast) each day of the week.
Valentine's day inspired me to come up with a bright pink chia pudding recipe.
Not familiar with chia seeds or chia pudding? Let's cover the basics really quick!

About Chia Seeds:
They have gained popularity in the past few years, despite being an important part of the diet for Aztecs and Mayans. They are the same chia seeds that grow chia pets (ch-ch-ch-chiaaa jingle is now stuck in my head). The word "chia" actually means "strength" in Mayan, for it's ability to provide a good source of energy (1).
They are very nutrient dense, with 1 ounce, or 2 Tablespoons providing 11g of fiber, 4 g of protein, 9 grams of fat, 18% RDI for Calcium, 30% RDI for Manganese and Magnesium, 27% RDI for phosphorus, and a fair amount of zinc, B3, B1, B2 vitamins, and potassium, all for only around 137 calories.

Chia seeds have high amounts of antioxidants, which can help fight free radical cell damage.

They are high in Omega-3 Fatty Acids, containing more on a gram for gram basis than salmon.

Due to their high fiber content, they can absorb up to 10-12 times their weight in water. This gives us the gel-like texture in smoothies, and chia pudding. This expansion also helps keep us full longer.
More on Chia Pudding
Texture
If you've never had chia pudding, I often compare it to the texture of tapioca pudding. When the seeds swell they feel like tiny little bubbles, similar to tapioca pudding. I have found that people either love or hate this consistency.
If you are really not a fan of the texture, you can immediately blend the seeds into the liquid (no need to let chill in the fridge), and it will gel up to a regular pudding texture without the seeds.
Recipe basics
Chia pudding is really, really easy to make. The 'base' is just plant based milk of your choice and chia seeds, plus whatever flavoring you are making.
I almost always include vanilla extract to give it more flavor.
To make 'colored' chia pudding from different ingredients you simply blend those ingredients with the milk then stir in the chia seeds. You may have seen green goddess, chocolate, or blue or purple variations. Those simply puree greens, cocoa, or dark berries with the milk, then add it to the chia seeds! I promise it looks fancier than it really is!
So once you get the ratio down, you can make it up on the fly with whatever you're in the mood for.
Why do I enjoy chia pudding so much?
First of all, it is really delicious, and I appreciate being able to make a batch, and switch it up like I mentioned above, and by changing it up with the toppings.
Second, it is super filling, and nutrient dense! I enjoy chia pudding, as breakfast, snack, or dessert. I included the nutrition information for this recipe at the bottom of the post.
How to make Beet Strawberry Chia Pudding:
Gather all ingredients, and your food processor or blender. You'll need some chia seeds, plant based milk of your choice, vanilla, beets, strawberries, and maple syrup, or another sweetener (optional).

Blend all ingredients, except for the chia seeds, until completely smooth and no chunks remain. This is my favorite blender system. You should have a bright pink 'milk.' I was in awe of how vibrant the beets made this!
If you're using maple syrup you can add it with the milk, or add it at the very end.
You can use fresh or frozen strawberries. If using frozen, let them sit at room temp to soften so the milk mixture doesn't get icy.
You can choose fresh, roasted beets, or canned beets. Read more about the difference at the end of this post :)
Transfer milk mixture to a bowl. Add the chia seeds, and stir until evenly distributed.
Cover and place in the fridge for several hours, or overnight. I recommend giving it a stir after a half hour to make sure there's no big clumps of chia seeds at the bottom.
After it has set in the fridge, give it a good stir. Divide into 4 servings, and add a drizzle of maple syrup, to taste. Top with your favorite fruits, seeds, shredded coconut, and/or a squeeze of lemon.
I prefer to add the sweetener at the end so that you can have more control on how much you really want or need. The fruit on top provides natural sweetness, so having more control at the end is what I prefer.

A note about beets:
You can use canned, or fresh then roasted beets. The nutrition content is the same, but I think the fresh, then roasted beets offer a more vibrant color payoff. So if that's what you're going for, I'd recommend roasting your own beets. You can see how vibrant and bright this beet strawberry chia pudding turned out, where I used roasted beets, compared to my vegan berry smoothie, where I used canned beets. Canned beets are much more convenient if you're in a hurry or have them on hand (save the juice to use in these pink meringue kisses).
How to roast beets:
Preheat oven to 400 F. Wash, and scrub beets, remove greens (save and eat them). Toss the beets in a little olive oil, and wrap in heavy duty foil.
How long should you roast them? Depends on your desired texture. I typically let them roast for 45 minutes to an hour, flipping halfway through. Feel free to take them out and check based on your preference. I recommend roasted a whole bunch at a time so you have a batch to use throughout the week.

Nutrition
Serving Size: ¾ cup; Yield: 4
One serving provides 7 g protein, 8.5 g healthy fats, 16.8 g carbohydrates, 36.6% Calcium, 13.4% Iron, 19% Vitamin C, 34% Magnesium, and 11.5 g fiber, for 173 calories. (excludes toppings)

Price
It costs approximately $4.13 to make this beet strawberry chia pudding, resulting in roughly $1 per serving not including toppings.
beet strawberry chia pudding, strawberry chia pudding
Yield: 4; 3/4 cup servings
Pin it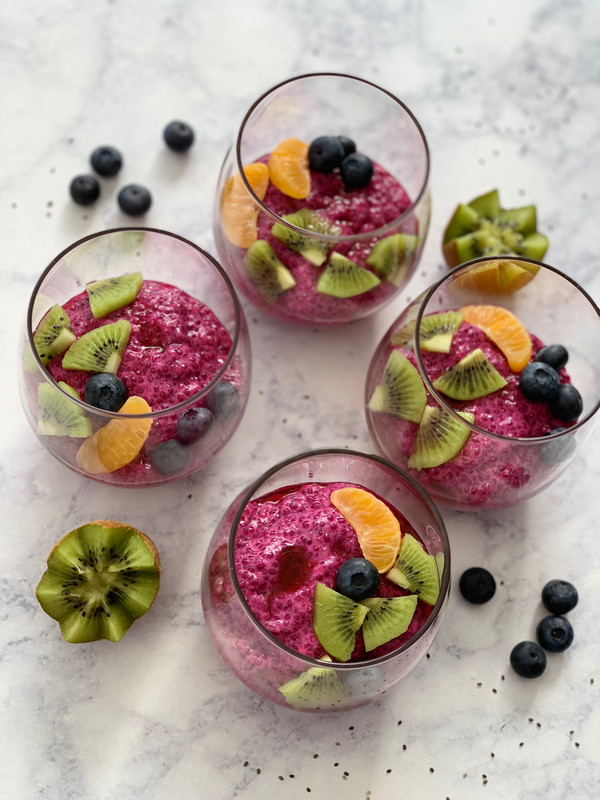 Beet Strawberry Chia Pudding
Try this vibrant, delicious Valentine's Day inspired Beet Strawberry Chia Pudding. Learn more about the history of chia seeds, their nutritional content, and how to make this easy chia pudding recipe!
prep time: 2 mins
cook time: 4 hour
total time: 4 hours and 2 mins
ingredients:
1/2 cup chia seeds
2 1/4 cups almond milk, unsweetened
1/2 cup strawberries
1/2 cup beets (canned or freshly roasted)
1 tsp vanilla
1/2 - 1 Tbsp maple syrup
Optional: toppings of your choice (berries, seeds, granola, coconut, etc)
instructions
Gather all of your ingredients, and food processor or blender.
Blend all ingredients (except for the milk, and maple syrup) until smooth and looks like bright pink milk.
Transfer to a bowl, and stir in the chia seeds.
Cover and refrigerate for several hours or overnight. Stir after 30 minutes to make sure there are no big chunks of chia seeds at the bottom of the bowl.
After it has set, divide into four servings. Drizzle desired amount of maple syrup on top and add your favorite toppings.
NOTES:
You can add the maple syrup in to blend with all the other ingredients if you'd like. I prefer to add it at the end so I have more control over how much added sweetener I need. Especially if you choose to top it with fruit which are naturally sweet.

You can use fresh or canned beets. I have found that freshly roasted beet provide a much more vibrant color pay off that you see in these pictures, compared to canned beets. But nutritionally they are the same.