Spicy Pumpkin Chili
Introducing you to one of my favorite fall recipes… you're welcome!
I love all sorts of variations for chili, and this one is festive, warm, aromatic, and has a good kick to it! There's something about a good bowl of chili that warms you up from the inside out on a crisp fall day— and this recipe does just that!
All you need is some pumpkin puree and a few kitchen staples to pull this together.
There is not one ingredient that does not bring something nutritious to the table. All of the components come together to offer a pretty yummy, nutritious meal!
This chili packs potassium, fiber, protein, iron, and numerous vitamins + antioxidants.
All you have to do is add all the ingredients to a big pot and let it simmer. The hardest, most time-consuming part is to chop up the bell pepper, onion, and garlic. Which took about 5 minutes, so it is just about as simple as you can get!
I used a red bell pepper this time around because that's what I had on hand, but I do wish I used yellow or orange to add another pop of color since it blended in with the diced tomatoes.
Also, please excuse me adding some of the ingredients out of order (I was watching University of Michigan Football and clearly multi-tasking is not my strong suite). Once the olive oil, onions, spices, and garlic are combined, it honestly does not make a difference what order you add everything else in.
The recipe calls for the chili to simmer for 30 minutes minimum. The longer it simmers, the more the flavors develop, so you can let it simmer for a couple hours if you have the time.
Be sure to add your favorite toppings! I enjoy some avocado, green onions, cilantro, a dollop of pumpkin puree, and pumpkin seeds on mine! And it pairs so nicely with some homemade tortilla chips!
Serve over quinoa or brown rice, or with a side salad and piece of bread for dipping!
Nutrition Facts
Serves: 8-10
Provides a good source of potassium (1000 mg), fiber (14.7 g), and iron (19% DV), as well as 12.3 g protein, high sources of Vitamin A, Vitamin C, and other vitamins and minerals for 220 calories.
*There is under 200 mg sodium in this recipe. For readers who are limiting sodium intake (as instructed by a healthcare professional), soups and chilis are one of the highest sources of sodium. By making soups and chili from scratch, we are able to control the amount of sodium much better, and can still enjoy these foods.
**Nutrition facts for chili only
Price Information
It costed me almost $11 to make this recipe, coming out to $1.08 - $1.35 per serving.
*Prices may vary depending on sales and bulk items. We tend to get canned goods at Costco, or when they are on sale 10/$10 at our local grocery store.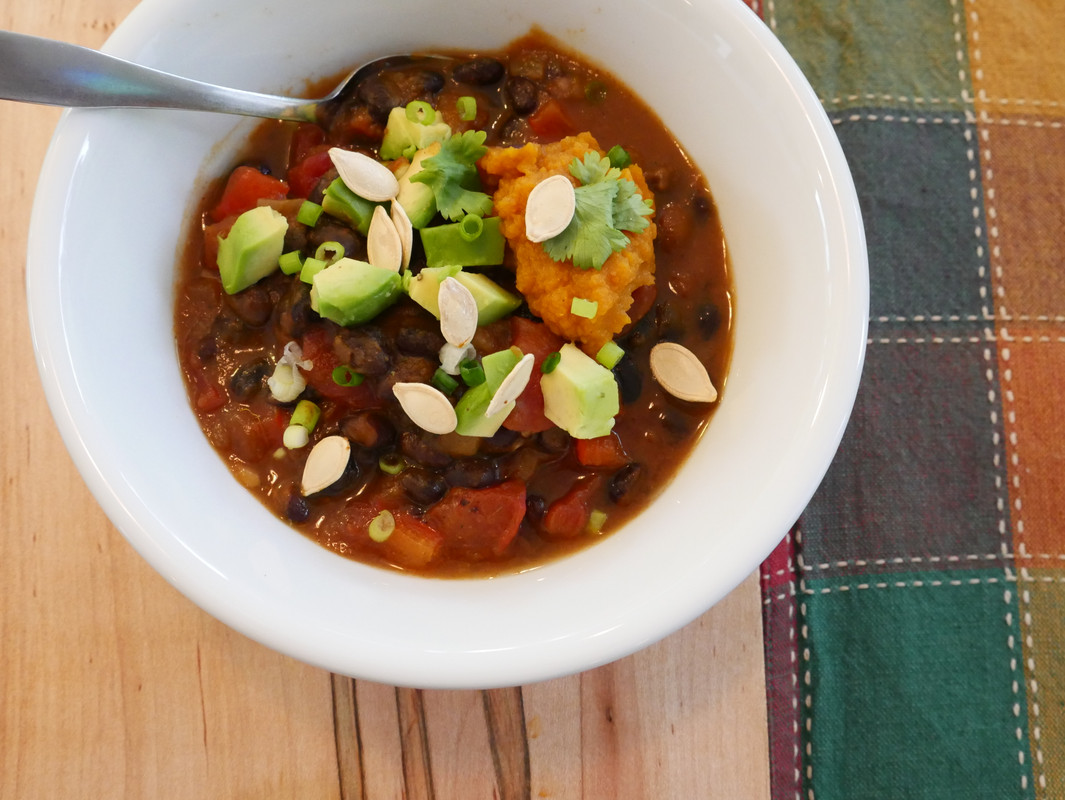 Spicy Pumpkin Chili
This chili is festive, warm, aromatic, and has a good kick to it! There's just something about a good bowl of chili that warms you up on a crisp fall day— and this recipe does just that!
prep time: 10 mins
cook time: 45 mins
total time: 55 mins
ingredients:
3 15 oz cans Black Beans, low-sodium, drained & rinsed
1 15 oz can Fire Roasted Diced Tomatoes
1 15 oz can Diced Tomatoes
15 oz 100% Pumpkin Puree, canned or homemade
2 cups Yellow (or white) Onion, about 1 medium onion, diced
1 yellow or orange Bell Pepper, chopped
2 cloves Garlic, minced
1 Tablespoon Olive Oil
1 cup Water
1 Tablespoon Chili Powder
1 teaspoon Cumin
1 teaspoon Cinnamon
Scant 1/8 teaspoon freshly ground Nutmeg (I just go back and forth over the microplane a couple times)
Dash of Salt & Pepper, to taste
Toppings of your choice
Optional: Dash or two of Pumpkin Pie Spice if you have it
instructions
Wash and prepare ingredients as listed (mince, dice, chop the garlic, onion, and bell pepper)
Heat the oil in a large saucepan or stockpot over medium heat
Add the onion and sautée for a few minutes, until translucent
Add the garlic, chili powder, cumin, cinnamon, and nutmeg. Stirring while it cooks for 1-2 minutes, until spices are fragrant
Add both cans of tomatoes with juice (do not drain), and the pumpkin puree to the pot, and stir to combine
Stir in the black beans, bell pepper, water, and season with salt and pepper
Reduce heat to low and simmer for at least 30 minutes, stirring often (the longer it cooks, the more developed the flavors become)
Serve with your favorite toppings and enjoy!
NOTES:
If you are not a big spicy fan, start with 1/2 tablespoon chili powder first
Cook in a crockpot on low for 8 hours (can omit the oil)