Homemade Pumpkin Puree
This fall, try something new by making your own pumpkin puree. This is so simple and easy to whip up, and is less expensive than grabbing the traditional canned pumpkin puree from the store.
Besides feeling extra festive this fall season (and dare I say..basic *gasp*), there are pretty substantial nutrition benefits of incorporating pumpkin into your dishes. It's important for me to note that this is in reference to actual pumpkin (like 100% pumpkin puree), and not the artificial pumpkin flavoring added to many things sold this time of year.
Pumpkin is a good source of Vitamin A, Potassium, Fiber, Antioxidants, and has a little iron and protein too.
Another added bonus is that it's a great way to support local farms and reduce your carbon footprint by eliminating the manufacturing and transportation steps in traditional canned pumpkin puree! So head to your local farmers market and grab a pie pumpkin & let's get started!

This is as easy as 1, 2, 3..
Prep Pie Pumpkin: Wash, cut, and scoop out the seeds

Bake at 350 F for 45-60 minutes, let cool

Puree pumpkin flesh until desired consistency

It's seriously that simple. Don't forget to save the pumpkin 'guts' to roast some pumpkin seeds!
I found my pumpkin at a local farmers market, and compared to my grocery store, it was cheaper to buy a local pumpkin. This always excites me when fresh, local food is less expensive than conventional grocery store items. I encourage you to seek out a farmers market near you, or ask at your local pumpkin patch if they have pie pumpkins. This is a win-win: supporting the local food environment, and saving you a little money. Not to mention, it serves as a great excuse to go on a fun fall outing!

Nutrition Facts
Since there is no standard serving size for pumpkin puree, and it's typically added with other ingredients in a recipe, I'm going to give you a few options based on use, whether you're adding a little, or a lot to something.
2 Tablespoons provides over 60% DV of Vitamin A, with a little bit of fiber for 12.5 calories

1/4 Cup provides 140% DV Vitamin A, 1.5 g of fiber, 3% DV for iron, and 168.5 mg of Potassium, for 25 calories

1/2 Cup provides 280% DV of Vitamin A, 3 g of fiber, 2 g protein, 6% DV for iron, and 337 mg Potassium, for 50 calories
*All recipes I use this in will have their own nutrition facts with this incorporated as an ingredient.
Price Information
This too will differ for you a little bit depending on the size of your pie pumpkin. The one I used was ~2.85 lbs. I bought mine for a $1 at a farmers market, and the yield was 24.5 ounces. This comes out to $0.04/oz. Depending on the brand, the average can of 100% pumpkin puree is between $1.99 and $2.50. This comes out to between $0.13 and $0.17 per ounce.
Homemade ~$0.04/ oz

Canned ~$0.13-0.17/ oz

For all my visual learners out there, follow along with the recipe video:
Now you've made pumpkin puree, but you're not sure what to do with it? No problem!
Check out some of my favorite fall recipes that use pumpkin: Chili, Pancakes, Pumpkin Seeds

Disclaimer
I have absolutely nothing against using canned pumpkin puree, so long as you're using 100% puree and not the pumpkin pie filling. If I'm in a bind, and don't have a batch of homemade pumpkin puree already made (or it's not fall), you bet I reach for a can of pumpkin puree from my pantry! This is simply another great option, and a fun fall thing I encourage you to try!
Yield: 24.5 ounces (varies)
Pin it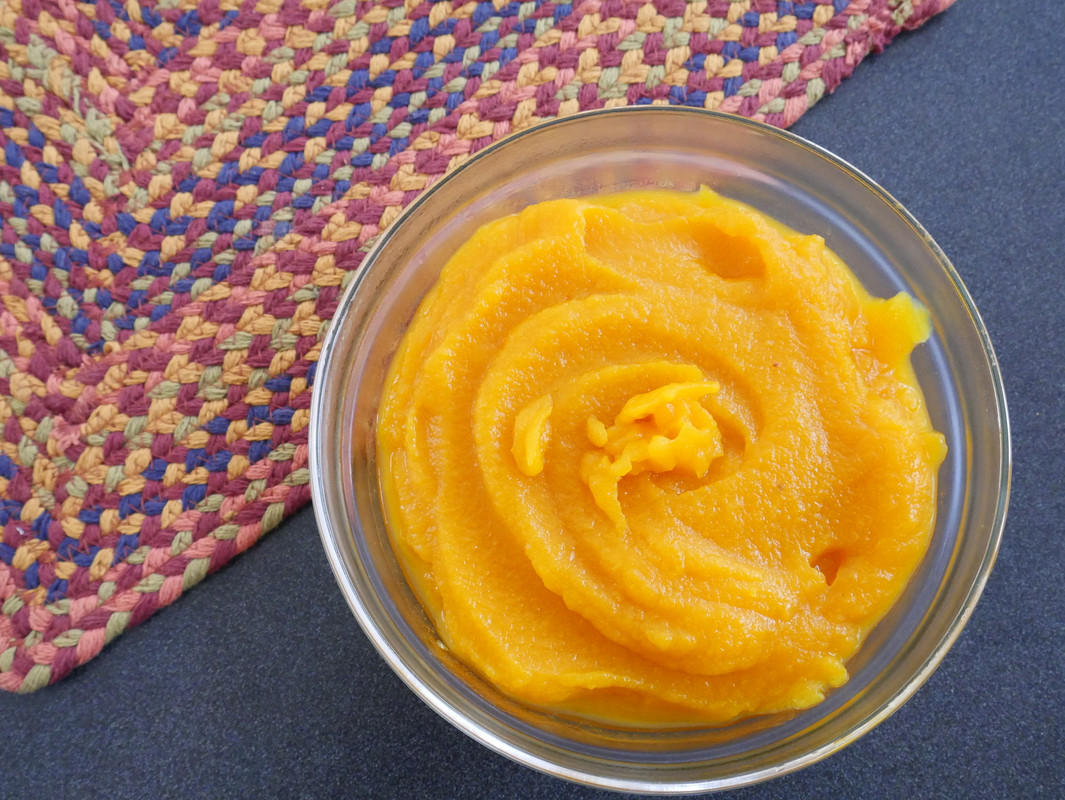 Homemade Pumpkin Puree
What says fall like homemade pumpkin puree? Easy to whip up, and can be added to so many dishes this season!
prep time: 15 mins
cook time: 1 hour
total time: 1 hours and 15 mins
instructions
Preheat oven to 350 F
Wash the pie pumpkin with warm water, scrubbing off any dirt
Cut the Pumpkin in half with a sharp knife (be careful since the pumpkin may roll around)
Scoop out the seeds and stringy part with a spoon. Set aside, do not discard. Roast pumpkin seeds here
Cut the halves into smaller wedges. Cut each halve in half again, or in thirds depending on the size of your pie pumpkin
Lay pumpkin pieces on a baking sheet and roast in the oven for 45 to 60 minutes, or until tender (easily poke/mash with a fork)
Remove from oven, and allow pumpkin to cool
Scrape flesh of pumpkin into a bowl. Use a potato masher or puree in a food processor for a smoother texture (you may need to add a few tablespoons of water to the food processor)
Enjoy! Use your homemade pumpkin puree in a variety of recipes and add to your dishes to enjoy this season
NOTES:
Store in the fridge for up to a week in an air tight container, or freeze for up to 6 months.
I used a 2.85 lb pie pumpkin that yielded 24.5 oz of puree. Yield will vary depending on the size of pumpkin you use